FlashGet is a download manager supposed to accelerate downloads a little bit and thus lend a hand to users whose Internet connection is unstable and very slow.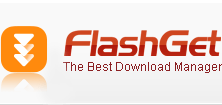 Feature :
Call antivirus automatically : FlashGet can call anti-virus automatically to clean viruses, spyware and adware after finishing download.
Increase the download speed and stability : Flashget can increase download speed from 6-10 times. It uses MHT (Multi-server Hyper-threading Transportation) technique and optimization arithmetic.
Support HTTP,FTP,BT,eMule and other various protocols.
Optimize the system resource : FlashGet can use up the lowest system resources and will not influence your normal work or study.
Screenshot :

0 Responses
Share This Article
Free Email Newsletter
Stay Updates with this Blog. Get Free email newsletter updates..
And then confirm your email subcription